Meads Pool
104 Meads Pool Road Elizabeth City, NC 27909
252.338.5151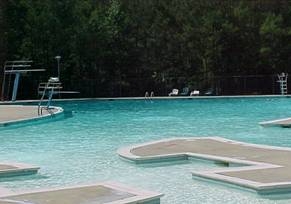 The world's only roller skate shaped pool that has 500,000 gallons of water with depths from 1 ft. to 12 ft. and features three diving boards and three water slides.
Open Daily 12noon-7pm (Monday - Friday) 12noon-7pm (Saturday & Sunday)Daily admission: (Daily Prices subject to change)
$7 for individuals over 48 inches tall Call 338-5151 for details.
$5 for individuals under 48 inches tall
$4 for a child under 16 years old with a paid adult. Meaning one child can get in for $4 for each adult admission of $7.
GET DIRECTIONS